ABOUT US
SciencePRO is a regional Marketing and Medical Solutions company headquartered in Beirut, Lebanon. We provide customized compliant medical and marketing solutions to biopharmaceutical companies and healthcare professionals.


Our Aim

- Shape disease understanding & communication
- Build long standing partnership with Key Stakeholders in MENA
- Provide the best service at an optimal cost


Our Services
---
Our Team


Groups a broad panel of expertise, committed always to innovative solutions, professional execution, business integrity and results; the keys to forging long-standing business partnership in a continuously evolving environment.


WE want to facilitate communication with leading experts, advocacy groups, KOL doctors & pharmaceutical companies.

WE offer distinctive Marketing, Medical and Sales solutions through successful partnerships.
---
Upcoming Events
abc Oncology Educational Courses 2016
Module 1: Colorectal Cancer Date: March 2016 - Venue: Hammoud Hospital UMC
Module 2: Lung Cancer Date: April 2016 - Venue: TBD
Module 3: Pharma Date: May 2016 - Venue: TBD
Module 4: Kidney & Prostate Cancers Date: July 2016 - Venue: TBD
Module 5: Breast Cancer Date: October 2016 - Venue: TBD

Lebanese International Fertility Summit 2016 - LIFE 2016
Date: 30 September 1 October 2016 - Venue: TBD

Bariatric Surgery Educational Symposium & Training
Date: 14 October 2016 - Venue: Notre Dame des Secours University Hospital
Campagne de Sensibilisation sur le Cancer de la Prostate
Date: 14 - 18 November 2016 - Venue: TBD

---
Latest Events

---
Patient Assistance & Care Excellence Congress 2016
Description:
''PACE 2016'' is a multidisciplinary congress gathering healthcare
professionals from different fields to discuss the latest advances and enhancements
in the psychological and quality of life management of hospitalized patients.
This congress will be a unique opportunity to address the key role of patients' support and quality
of life in the management of chronic high burden diseases. The multidisciplinary meeting
program's main focus is on oncology, cardiology and neurology patients.
Date:
27 May 2016
-
Venue:
Notre Dame des Secours University Medical Center
---
Description:
The 12th Byblos International Digestive Workshop is organized by
the Gastroenterology, Hepatology and Surgery Departments at Notre Dame des Secours
University Hospital (CHUNDS), and in collaboration with the General Medical Workshop
Association (G-MEA), the Africa Middle East Association of Gastroenterology (AMAGE),
the Jordanian Association of Gastroenterology and Endoscopy Nurses and Associates
(JAGENA), the Lebanese Society of Gastroenterology and the Lebanese Society for
General Surgery.
The workshop offers a mixture of presentations on current topics, review lectures, point-
counterpoint presentations on controversial issues, with live procedure transmission from
the endoscopic suite to the conference hall. The faculty experts will perform the live endoscopic procedures from CHUNDS.
Date:
14,15 & 16 April 2016
-
Venue:
Regence Palace Hotel - Adma
For
Meeting PHOTOS Click here!!!
---
Oncologie Pour Professionnels de Santé
Description:
a series of small conferences aiming at continuously update nurses, pharmacists,
and oncology related healthcare professionals about new drug introduction or a new indication
for a drug in addition to all oncology treatment protocols and adverse events management.
''La Medecine Precise dans le Traitement du Cancer du Sein''
Date:
8 March 2016 -
Venue:
Babel - Dbayeh
For
Meeting PHOTOS Click here!!!
---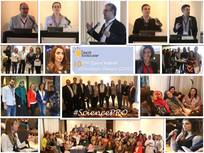 10eme Cours Intensif d'Oncologie Clinique
Date:
5 March 2016 -
Venue:
Crowne Plaza Hotel - Hamra
Description:
The Cancer Research Group (CRG) had committed, and for the past
9
years, to aid in nurses education throughout a tailored intensive cancer course.
This course focuses on the unique challenges that oncology nurses face in providing
optimal care for their patients.
For
Meeting PHOTOS Click here!!!
---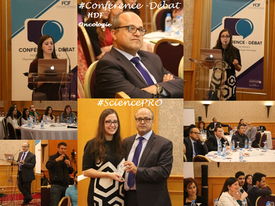 Conférence Débat du Département d'Hématologie-Oncologie de l'HDF
Description:
The main objective of these conferences is to discuss the latest and the key debatable
topics in cancer treatment and patients' management.
''Eribulin est la Chimiothérapie de choix dans le Rattrapage des Tumeurs
du Sein Métastatique''
Pros: Rte Maya El Ghor Cons: Rte Pamela Abdayem
Date:
1 March 2016 -
Venue:
Hilton Beirut Metropolitan Palace Hotel
---
---
Location:
Yachoui Center, 11th Floor, Jal el Dib Highway - Lebanon, P.O.Box: 90-1603 Jdeideh
Tel:+961 71 208822, Fax:+961 4 723099
email:
info@sciencepro.me